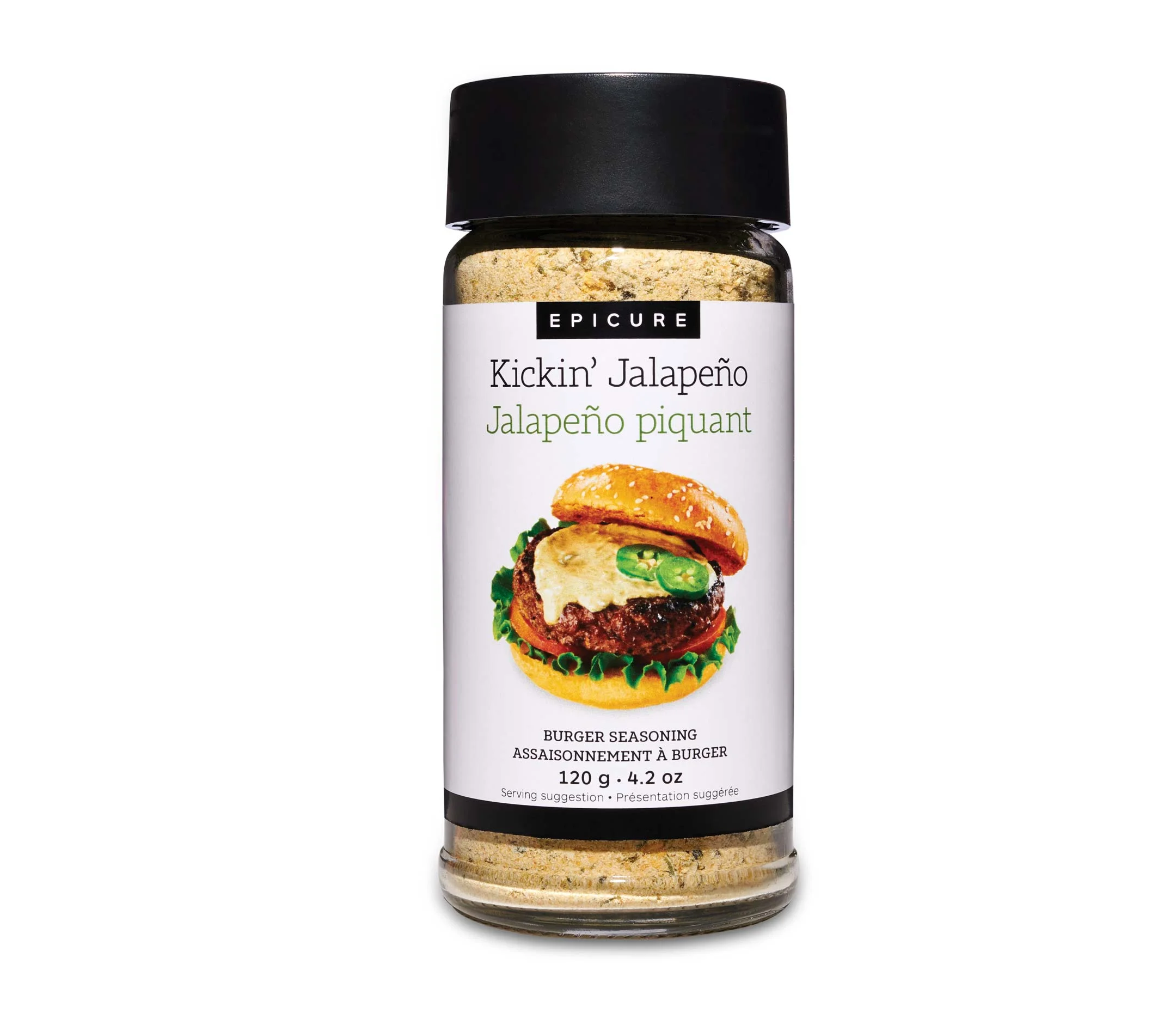 Bring some zing to your burgers with our Kickin' Jalapeño Burger Seasoning, made with select spices and real jalapeño peppers. We made this versatile seasoning to bring spicy umami flavour (with a hint of lime) to anything and everything that we could throw on the BBQ. It's a spicy blend but you can add as much or as little heat as you want to cater to your tastes. Simply combine with your burger meat (or sprinkle on vegetables that have been lightly oiled) for an impressive, healthy alternative to takeout burgers. 
Simple Steps: 
Combine 450 g (1 lb) of lean ground beef with 2 tablespoons of seasoning. 
Form into four patties and grill. 
Serve in buns with your favourite burger trimmings. 
For a plant-based option, brush four portobello mushroom caps with olive oil and sprinkle with 2 tablespoons of seasoning. 
All sources of maltodextrin used at Epicure are made with rice or tapioca. Epicure only uses gluten-free ingredients.
120 g (4.2 oz)  
One jar seasons 24 burgers. 
Fibre is the unsung hero that keeps our digestive systems moving and our health grooving. A single serving of our Kickin' Jalapeño Burger Seasoning adds 1 g of fibre to our burger. That may not sound like a lot but it's an extra 4% towards our daily dietary fibre goal just by adding a little spice. 
Ingredients: Onion, jalapeño pepper, garlic, organic lime powder (organic rice maltodextrin/tapioca maltodextrin, organic lime juice concentrate, organic lime oil), sea salt, cornstarch. 
We spend as much time thinking about everything we don't put in, as everything we do. See Our Good Food Promise and our Never-Ever List to see what you won't find in an Epicure ingredient list. 
Epicure is dedicated to sharing delicious meal solutions that use only real, whole ingredients you can trust, while never ever compromising on taste.
Epicure products are:
100% gluten free
Made in a nut-free facility (except coconut)
Free from corn syrup & hydrogenated fat
Free from artificial colours, sweeteners & preservatives
Sugar & sodium conscious
Made from ethically sourced ingredients
85% non-GMO Project verified
Learn more about our Good Food Mission and the Never-Ever List