Southwest Popcorn Potato Dinner Jacket Potatoes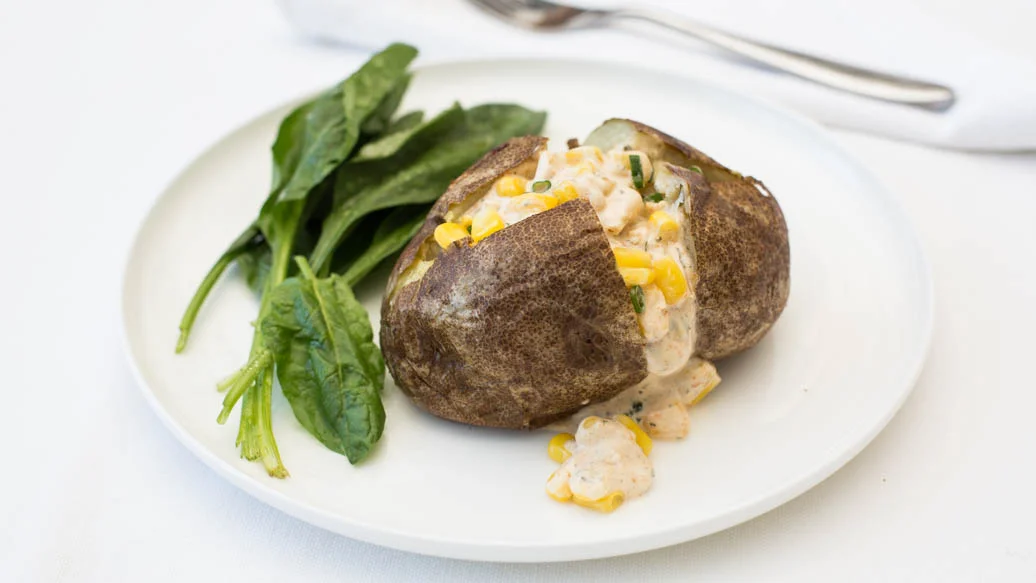 50 - 65 minutes
4 servings
$0.75/serving
Easy, creamy, cheesy, and spicy—there's a reason this simple dish is so popular!
Ingredients
4 baking potatoes
olive or vegetable oil
1 cup cooked frozen corn
1 cup sour cream or light mayonnaise
1 tbsp White Cheddar Popcorn Seasoning
1 tbsp Cheese & Jalapeño Dip Mix, or your favourite
Preparation
Wash and scrub potato skins well and dry with a kitchen towel. Pierce potatoes in several places with a fork.
Brush with olive or vegetable oil, then sprinkle with Sea Salt and Black Pepper. Place directly on oven rack in a preheated 400° F (205° C) oven.
Bake for 45–60 minutes, until fork-tender. Turn spuds over halfway through.
To make topping, mix corn, sour cream, popcorn seasoning, and dip mix.
When potatoes are cooked, cut a deep cross in the top. Using a kitchen towel, squeeze base gently to open up top. Place on a plate and top with corn and seasoning mixture.
Nutritional Information
Per serving: Calories 340, Fat 4.5 g (Saturated 2 g, Trans 0.1 g), Cholesterol 10 mg, Sodium 130 mg, Carbohydrate 70 g (Fibre 7 g, Sugars 5 g), Protein 10 g.